We are proud to present our full line of Solder Kits. Each kit includes all necessary components and circuit board along with full color illustrated instructions.
SK9914 / SK-9914 Rectangle Robot Blinker Kit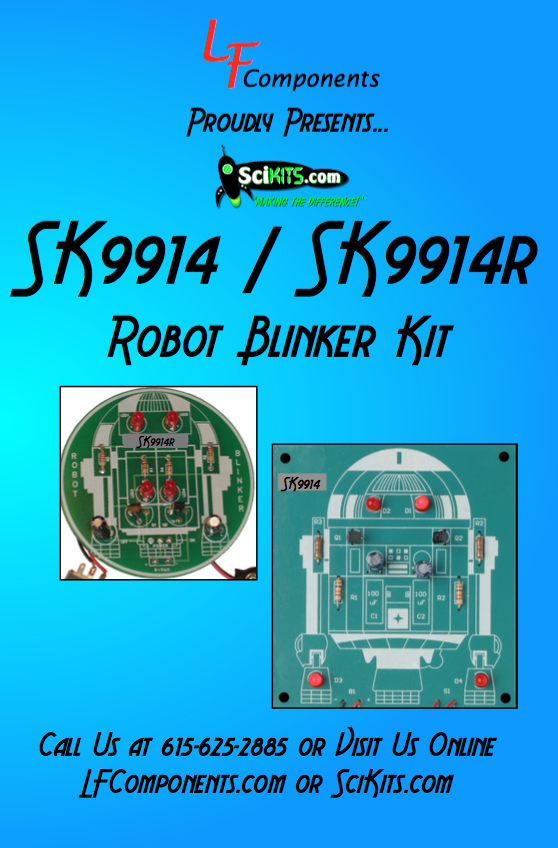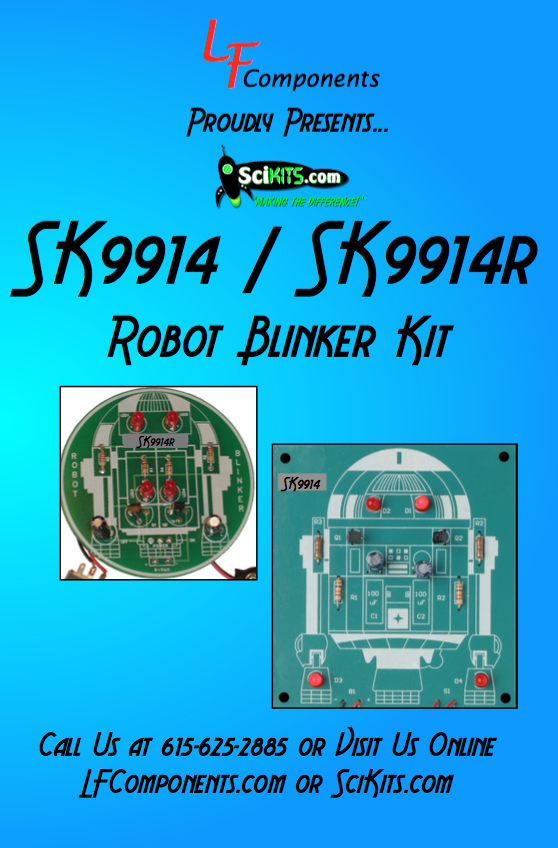 SK9914 / SK-9914 Rectangle Robot Blinker Kit
SK9914 / SK-9914 Rectangle Robot Blinker Kit
Once you have assembled this SK-9914 Robot Blinker Kit you may use your imagination and blast off into space to help save the Universe. There is sure to be lots of fun with this easy to assemble, and easy to understand kit. Robot Blinker will teach you the basics of soldering, assembly and LED Technology .
The LED Robot Blinker alternately flashes a pair of LED's at a rate of about two "blinks" per second. Even though this project is a toy, there is a great deal of electronic knowledge to be gained by understanding how it works. The circuit is basically a stable multivibrator, or free-running oscillator, and is one of the more popular types of oscillators in use today.
This kit comes with step by step instructions, Explanation of Operation, Reading Comprehension Questions, Pencil Exercises, Circuit Board Schematic Diagram, Pictorial Diagrams, and there are also Troubleshooting Instructions.
REQUIRES ONE 9VOLT BATTERY. BATTERIES SOLD SEPARATELY.
This Kit Requires Soldering
- Solder Iron & Accessories Sold Separately -
EDUCATORS & SCHOOLS PLEASE NOTE : A BETTER PURCHASE PRICE IS AVAILABLE WHEN PURCHASING MULTIPLE KITS - FOR LARGER PURCHASES PLEASE CALL IN FOR PRICING AT 615-625-2885.
WARNING CHOKING HAZARD - SMALL PARTS NOT FOR CHILDREN UNDER AGE 5