We are proud to present our full line of Solder Kits. Each kit includes all necessary components and circuit board along with full color illustrated instructions.
SK9906 / SK-9906 Burglar Alarm Kit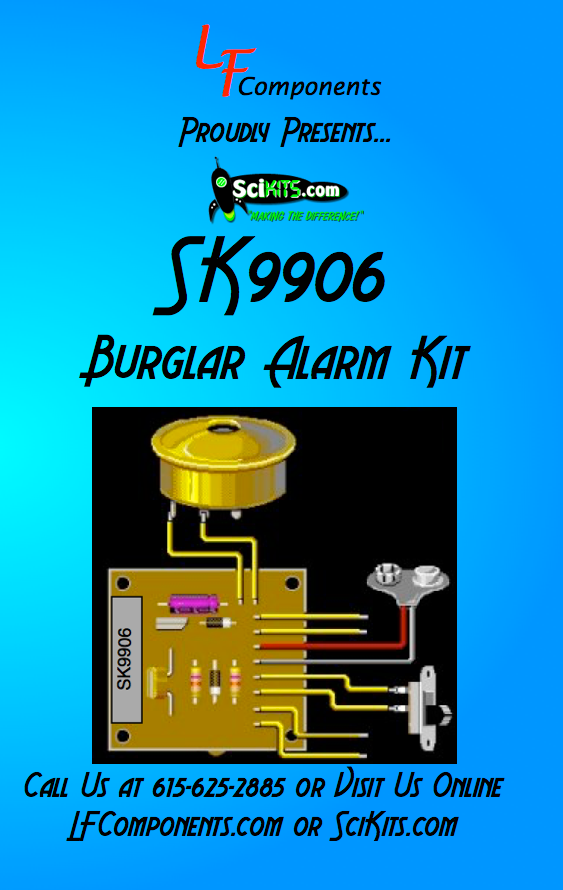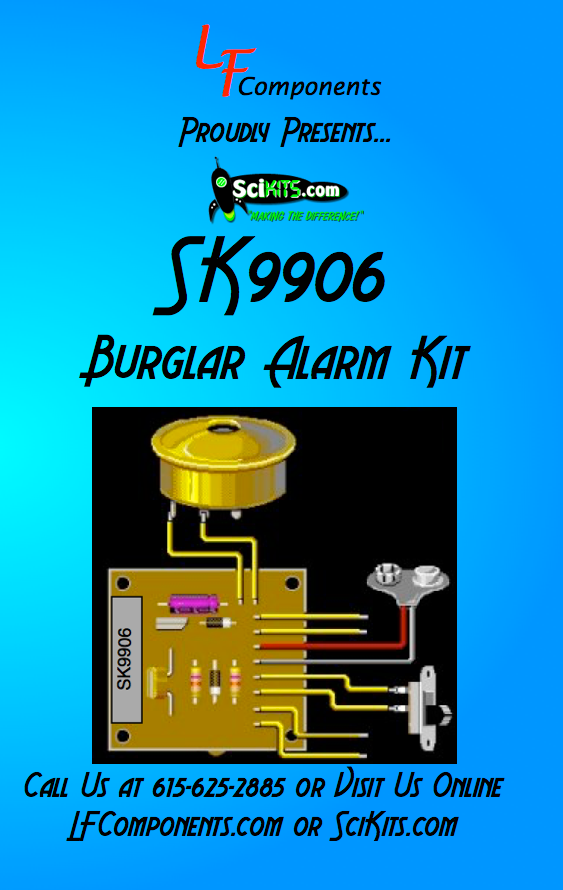 SK9906 / SK-9906 Burglar Alarm Kit
SK9906 / SK-9906 Burglar Alarm Kit
This SK-9906 Burglar Alarm Kit is perfect to help protect your automobile, home or business. It will monitor normally-closed switches and normally-open switches at the same time. It is small and can be easily hidden. It will sound its own buzzer, or the horn on your car. It can also be connected to any large siren, etc.
Now you can catch intruders red handed with this cleaver, and educational project. The alarm sounds to alert you, mom or dad when someone is trying to be sneaky. Mount this completed project on your door or on your baseball card collection to help protect against intrusion and loss. You will always know when you been invaded with this bad boy!
This kit comes with step by step instructions, Explanation of Operation, Reading Comprehension Questions, Pencil Exercises, Circuit Board Schematic Diagram, Pictorial Diagrams, and there are also Troubleshooting Instructions.
This Kit Requires Soldering
- Solder Iron & Accessories Sold Separately -
EDUCATORS & SCHOOLS PLEASE NOTE : A BETTER PURCHASE PRICE IS AVAILABLE WHEN PURCHASING MULTIPLE KITS - FOR LARGER PURCHASES PLEASE CALL IN FOR PRICING AT 615-625-2885.
REQUIRES ONE 9Volt BATTERY. BATTERIES SOLD SEPARATELY
WARNING CHOKING HAZARD - SMALL PARTS NOT FOR CHILDREN UNDER AGE 5